Blog
Author Josephine Ayers Provides Insight Into Healing From Heartache In Her Book
9/13/2018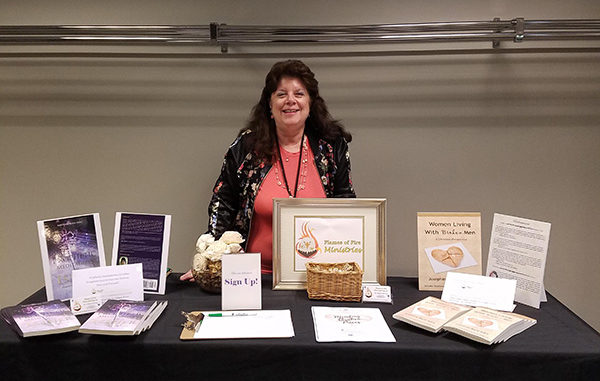 By Jennifer Lamey
Author Josephine Ayers was inspired by her own life journey. As she began to understand what God was revealing through her life, she felt the need to share her experiences and the wisdom that came out of those trying times.

In her book, Women Living With Broken Men – A Christian Perspective, Josephine brings to light real difficulties that many people face in their marriages, including dealing with struggles after the honeymoon phase has long passed. Readers will be encouraged that they are not alone in these challenges. That others have faced a similar journey of abuse and dysfunction and with the strength of the Lord have come out alive. Josephine takes the reader through challenging circumstances with grace, mercy, and love. She provides a scriptural foundation to her practical approach.

Josephine writes in an easy to understand, conversational style that invites the reader in like an old-comforting friend. She uses examples from her "own story of living with broken men" along with five other anonymous women to illustrate how God works through brokenness. Josephine's husband, David also wrote a chapter that is from the perspective of a broken man trying to change.

Josephine is a registered nurse and did not set out to be an author. However, she recalls, "40 years ago words were spoken over me of being an author. I thought, 'are you serious?' Years later when she started the book she remembers, "In the beginning when I was taking notes, I thought, 'I can't do this.' It seemed like a big elephant, I put my notes down. At the time I was at a conference. At the end of the conference the pastor had an alter call … he looked at me right in the face and said, 'That book you put down this morning, God wants you to finish.' I knew I had to do it. [It is] a God's project, no doubt."

Now that Josephine has completed Women Living With Broken Men she is beginning to see the depth of what God used her to do. "Women that would not want to talk about it, are [talking] because they're not alone. The subject matter is a hot button topic and its time that people talk about it." Josephine wants her readers to know that, "God is the redeeming factor. They are not alone, there is a plan B and it doesn't have to be drastic."

Although, the book is mainly from a female perspective, Josephine also wants to encourage men. "My ministry isn't just about women. It's about educating everyone on how Jesus gave us the fullness of His resurrection. … Often I've made connections not from success stories, but from my challenges. … What I minister has come out of my own personal pain and experience. It wasn't an easy journey. [Now I have] empathetic shoulders, Jesus is the only reason I'm still standing today." Josephine explains.

In addition to being an author Josephine is an ordained minister, and in 2016 she launched a 501c Nonprofit called "Flames of Fire" which "is to educate, motivate and activate the Body of Christ in their God given authority, with signs and wonders following." They are affiliated with Elim Fellowship, a national and international apostolic ministry. Flames of Fire has a Prophetic Evangelism Ministry, a Women's Prison Ministry, and is hoping to start a ministry for abused women very soon. She has a heart to "raise up new leaders, especially those who have been overlooked, and have been beaten down." Josephine also holds women's restoration conferences and seminars called "Mending Broken Pieces." To learn more about Josephine Ayers, her ministry and to purchase her book Women Living with Broken Men – A Christian Perspective visit her website at www.FlamesOfFire.us or on Facebook at Flames of Fire Ministries.
September 13, 2018 ~ The Good News ~ Author Josephine Ayers, Books